Salcombe WI
Salcombe WI
Our membership rose from 29 to 42 in 2013 and, with our brilliant programme for 2014, we fully expect to continue to grow. Guests are very welcome at our monthly meetings; so, if you have friends or family staying, you can bring them too.
Membership costs only £34.70 per annum and, for this, you enjoy 10 monthly speaker/demonstration meetings, plus our annual summer outing and our Christmas dinner, and receive a monthly newsletter and the monthly WI Life magazine, plus many other perks. We also go on excursions organised by the Devon Federation and at National level, and arrange occasional lunches supporting local venues. For details of forthcoming events, click here.
For more information about our speaker programme and how to join Salcombe WI, contact President May Crimp on 01548 842361
LATEST NEWS
At the November 2013 meeting of Salcombe WI, with membership now standing at 40, guest speaker Master Baker, Michael Astill's topic was 'Chocolate Delight'. Michael brought with him a range of handmade truffles and petit fours, plus the moulds and tools that he used to make them. He supplied a recipe for the ganache filling for readymade truffle shells and explained how sealing the balls with a chocolate cap would give them a shelf life of six weeks; this was in contrast to freshly made truffles which should be eaten within four days. With respect to petit fours, Michael recommended using marzipan with a high almond content. Michael then explained the importance of temperature and how to 'temper' the chocolate. The three types (dark, milk and white) require different handling and different temperatures. Mouths were watering as Michael listed all the various coatings or truffles and it was not long before we were sampling them.
Out and about, Ladies of Salcombe WI supported two other events in November: the DFWI FCSA Coffee morning at Blackawton and the Resolutions Special Meeting in Ipplepen. December will be yet another busy month with the Annual Carol Service at Exeter Cathedral on 3 December and the Carol Service at South Milton on 6 December, plus our members-only Annual Lunch on 10 December.
The programme for 2014 reveals that in January we welcome back Lisa Davies for 'A Floral New Year'; in February, Anita Reynolds will show us 'The South West Coast Path' through the eyes of a printmaker; and, in March, Margaret Dennis will explain why 'An Egg is not only for Easter' with her fabulous Faberge style eggs.
October 2013 proved to be a busy and highly successful month for Salcombe WI. At the monthly meeting on Tuesday 15 October, President May Crimp was delighted to welcome six new members (bringing our membership up to 38) and three guests. Ali Soper arrived with the coasters that we had made at the September workshop meeting after her inspiring talk on 'Modern Day Mosaics'. Then, in aid of About Face, the head and neck cancer support charity, David and Pauline Wright from 'Lift the Latch' on Blacklands Lane in Forton presented a slideshow of their wonderful all year garden. In the Q&A session that followed, we gleaned many tips on the best use of black cotton, how to plant fake flowers, when to prune and when best to mount an attack on slugs – and a long list of plants which ensure colour in every season, throughout the year.
On Thursday 17 October, six of our members attended the DFWI Autumn Council meeting in Plymouth Guildhall and enjoyed meeting the new Executive/Board of Trustees. The guest speakers both informed and entertained us: a financial advisor explained some common money problems; a representative of the Plymouth Street Pastors told us of the valuable work they do; and Two Men and a Piano made us laugh and sing along to a selection of Flanders and Swann songs. After lunch, Toyah Willcox, a charismatic and gifted performer, spoke about her life and music.
The next monthly meeting is on Tuesday 19 November and Michael Astill will be tempting us with 'Chocolate Delights'. This is also the meeting at which our programme of speakers and demonstrators for 2014 will be launched. Guests and prospective new members are very welcome to attend.
September 2013 - The Ladies of Salcombe WI, represented by Janis Fice, Margaret Moore and Sylvia Matthews, surpassed expectations at the Kingsbridge Show on Saturday 7 September , winning First Prize in the WI class and collecting the Mrs T Balls Perpetual Challenge Cup. The challenge was for three or more members to interpret 'An English Country Garden' using two craft items, two food items and a flower arrangement.
Janis Fice explained: 'We decided to depict a cream tea in the garden. Margaret Moore worked the most stunning raw-edged machine-appliqued pictorial quilt, which we used as a backdrop. I made a cross-stitch tray-cloth and napkin and placed the flowers in an L-shaped arrangement.'
Sylvia Matthews, who made the food items, said 'After many trial runs of scones and Victoria sandwiches, I decided on a Dundee cake and scones.' Helen Higgins, Salcombe WI's Treasurer said: 'As one of the tasting team, I can confirm that all of Sylvia's cakes were delicious.'
Salcombe's entry was awarded 40/40 for the craft items, 39.5/40 for the staging and display, 18/20 for the flowers and 35/40 for the food items and, on behalf of the team, Janis was presented with the Mrs T Balls Perpetual Challenge Cup, which had been given in 1969.
Janis said: 'We had fun getting it all together, were amazed to have won and are looking forward to next year's schedule though, how we top this, I don't know!'
May Crimp, President of Salcombe WI, added: 'It was a wonderful team effort and all our members are delighted.'
Celebrations, with more of Sylvia's Victoria sponge, took place at the September monthly meeting , after a wonderful demonstration of Modern Day Mosaics by Ali Soper. Her talk on 'Modern Day Mosaics', explained how her love of jigsaws first led her to this craft – or is it an art? Ali described the different bases on which the mosaic pieces are glued, the tiles which can be sourced on the Internet, or just using bits of broken crockery, and the tools that she uses to cut tiles to shape. Then, with her assistant Janet, Ali led a workshop for our ladies to try their hand at this craft. Ali had brought along many inspiring examples of her work, and a wide range of tiles to choose from. We made a variety of coasters, surprising ourselves with our creative talents.
16 July 2013 : members-only Annual Outing was to Babbacombe Model Village and Cockington Hall and included our usual programme of morning coffee, lunch and an afternoon cream tea. With our increased numbers, we took a coach rather than the Salcombe minibus and were praying for fine weather!
18 June 2013 : At the June meeting of Salcombe WI, the newly elected Committee were pleased to welcome guest speaker Alison Alexander whose topic was 'Science Dabbles'. We had lots of fun with science activities and hands-on experience – all about Astronomy and much more.
At the 28 May 2013 meeting of Salcombe WI – our Annual meeting at which Officers and the Committee were elected – our Shoe Box appeal was launched.
President May Crimp thanked her Committee for all their hard work in the past year, especially Secretary, Anne Rainbow, and Lynn Hillaby who were both stepping down from the Committee.
Guest speaker, Linda Carew, WI Adviser and recent chairman of Devon Federation, stressed how important it was for all members, whether on the Committee or not, to take on tasks to ensure the smooth running of Salcombe WI and how some of the tasks could be shared.
Linda then oversaw the election of the new Committee and President. Archivist Janis Fice accepted the invitation to join the Committee. Then, from four nominations, May Crimp was re-elected as President. The Officers were confirmed as Joan Payne (Vice President), Helen Higgins (Treasurer), Ann Thompson (Secretary), Janis Fice (Archivist) and Shirley Watling (Speaker Secretary).
22 May 2013 : DFWI Visit to Sharpham Vineyard
15 May 2013: The sun shone on the Ladies of Salcombe WI when they visited the Mare and Foal Sanctuary to learn about their efforts to rehabilitate and re-home horses. The charity, whose motto is 'Kindness, Care and Knowledge', was started in 1988 by Rosemary Kind. As well as the Mare & Foal Sanctuary at Newton Abbott and the Coombe Park Equestrian Centre at Littlehempstone, near Totnes, they have ten shops, including one in Kingsbridge, to raise funds.
After a brief, informal talk about the work done at the farm, there was a guided tour of the stables. Several horses and ponies were being groomed and exercised in the arena. As each was introduced, their life history was explained. Many came with a sad tale of neglect. In the photograph, President May Crimp, Treasurer Helen Higgins, Lynn Hillaby and Secretary Ann Thompson are pictured with their guide and two of the foals in need of good homes.
After a visit to the gift shop, we lunched at the Pig and Whistle Pub.
14 May 2013: West Alvington WI at the Church House Inn, Churhstow, 7.30pm, a talk by Cat Saunders supported by several members of Salcombe WI
25 April 2013: Seacoast Group Meeting, S Milton Village Hall supported by several members of Salcombe WI
18 April 2013 : DFWI Crab Feast, Malborough supported by several members of Salcombe WI
17 April 2013 : Spring Annual Council Meeting Riviera Centre, Torquay attended by President May Crimp, Treasurer Helen Higgins, Social Secretary Ann Thomson and Vice President Joan Payne.
On 16 April 2013 , Julia Fox of Totnes Fashion and Textile Museum explained 'An Edwardian Lady's Layers'.
On Tuesday 19 March, our guest speaker, Mark Lobb, local fish and game merchant, told us 'A Fishmonger's Tale' starting with a brief history of his life, his early years on fishing boats, later, shooting game and obtaining his first licence.
Mark brought us up to speed on the politics of fishing, and attempts by many parties to claim sea-land which, in time, could become valuable. Information provided by scientists meant politicians were now better informed and (in theory) could make better decisions. Mark hoped this meant the future would be better controlled so as to preserve not just the fishing stock that we need to feed the nation, but also the livelihoods of fishermen. We learnt how the size and design of mesh results in the efficient rejection of fish which are too small so they are returned to their natural habitat.
We were then given a crash course on fishing within 20 miles of Plymouth and Start Point. Salcombe is ideally situated with its open larder of supply and, to prove his point, Mark brought along a selection of fresh fish including a 6-yr-old cod which was about 4 foot long. He talked us through the various flat and round fish, explaining how they evolved, when they were in season and therefore best to eat.
His knowledge of fish – from the food ball upwards – and the methods used to catch them, was impressive. He recommended we buy from local fisherman and warned against paying for water on glazed products. He showed how to fillet fish, and how to open a scallop with a flick of the wrist. He gave us cooking tips and recipes and explained how our multicultural society has resulted in a far wider variety of fish on the slab. Chefs – from Floyd through Oliver and Stein to Fearnley-Whittingstall – had made us more adventurous and that was good news for the fishermen. Encouraged to eat more fish, many of us bought that night's dinner from Mark!
4 March 2013: DFWI FCSA Annual Meeting attended by President May Crimp, Social Secretary Ann Thompson, Jane Mconald and Archivist Janis Fice - occasional lunch afterwards at Ashburton Arms.
On 19 February 2013 , Ken Hudson from the Dartington Morris Men, together with his wife, Hilary, entertained the Ladies of Salcombe WI with 'Fifty Years with Bells On'. First, to demonstrate a traditional piece of music, Hilary on violin and Ken on melodeon were accompanied by members of the audience armed with shakers and rattles. Ken then gave a brief account of his group, founded in 1934. The leader is called the Squire, and the secretary the Bagman and members of the group, about 20 strong, may have specialised roles as 'fools' and animals, such as a hobbyhorse or unicorn, to provide entertainment between dances. Since the 1970s, women have formed teams, and there are now mixed groups in Open Morris. Ken performed two dances and tempted several of our ladies onto the dance floor to be taught a few steps. It proved amusing to those who took part and was much enjoyed by all.

11 February 2013 : DFWI Themed lunch at Rattery Village Hall attended by Secretary Anne Rainbow, Treasurer Helen Higgins, Social Secretary Ann Thompson and Archivist Janis Fice.
1 February 2013 : Seacoast Group President & Secretaries Meeting at South Milton, attended by President May Crimp and Secretary Anne Rainbow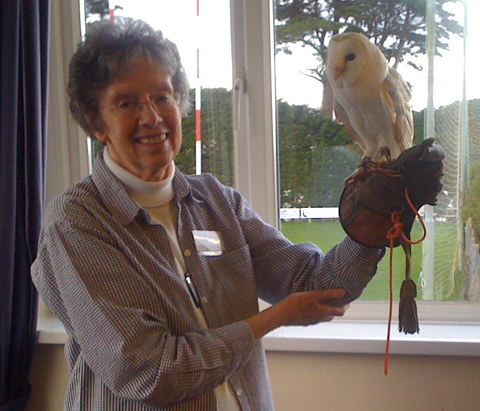 The Ladies of Salcombe WI were off to a flying start at their January meeting. Vic Slack from the Hawk and Owl Sanctuary demonstrated how he works with birds of prey and brought with him a magnificent array of six owls, a desert eagle and a falcon. As Vic, his wife Angela and their assistant Kevin, introduced each rescued bird, their passion for these beautiful creatures shone through and we entered the amazing world of falconry: the terms they use and how a bird is trained for hunting. For instance, birds have five weights: summer fat, jumping, flying, hunting and dead. Whereas we ladies don't discuss weight at all!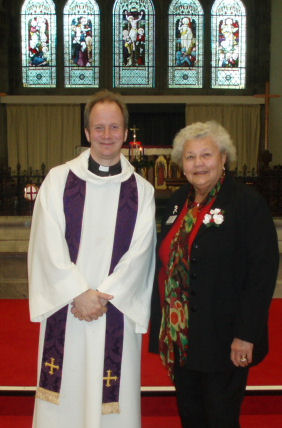 2012 saw membership of Salcombe WI grow dramatically from 22 to 29 and the year WI ended with a Christmas Lunch at the Ring O' Bells on 11 December. Before then Salcombe WI hosted, for the first time ever, the Seacoast Group Carol Service at Holy Trinity Church on 7 December. As well as all our members, in the congregation were members of the three other WIs in the Seacoast group: West Alvington, Thurlestone and West Buckland, and South Milton. Reverend Daniel French led the service of readings and carols and this was followed by a sumptuous tea.
- See more at: www.thewi.org.uk/become-a-member/structure-of-the-wi/england/devon/find-a-wi/salcombe/salcombe-wi-news/_nocache